There are several items which require some skills and a bit of cash to obtain; they can neither be traded or dropped. This is a guide on how to get them, and the pre-requisites of obtaining these items.

     Normal: There are no requirements for this sword, anyone can wear it.

Enhanced: The requirements for this sword are:
Note: You must destroy your normal Excaliburs before you can receive enhanced ones.
This sword is sold by Lady of the Lake in Taverly. You can get to her via Falador/Taverly loadstone.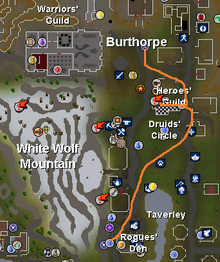 Heroes' guild
Edit
Entering the Heroes' Guild requires completion of the Heroes' Quest. This is beneficial because you can recharge amulets of glory and access the shop.
You can get to the Heroes' Guild via Burthrope/Taverly loadstone.
Legends' Guild
Edit
At the Legends' Guild you can do clues, access various shops, or chill (who knows) :D
To access the Legends' Guild, you need to have the Heroes' Quest requirements. The same thing goes for the Legends' Guild and Legends' Quest requirements. They are: